SUSTAINABLITY
Our future will depend on the choices we make in the next few years.The corona virus situation and lockdown has shown that the world can be a different place and governments can take actions in response to a crisis.
A sustainable society which is in balance with nature is a goal to work for and will provide protection of our environment and a world fit for future generations.
GSX will be working with our local councils to develop a fair and just society which produces a carbon neutral world and deals with the Climate change crisis and the Biodiversity crisis.
Sustainability can be considered as Environmental and Social Justice and this can be achieved by a global Green New Deal.
Local actions will play an important role and it is neccessary to consider the issues involved.
These issues can be viewed as Pillars of a Greek style temple, with the foundations being the community and the roof is action on climate change,protecting the community with a healthy, sustainable and peacefull society.
The eight Pillars are ENERGY and BUILDINGS
TRANSPORT and RESOURCES,
LAND, and WATER,
FOOD and HEALTH.
view the separate pages for more details of these issues.
Sustainablity West Midlands has launched the Vision for 2030 with the following themes
Resources and the circular economy.Clean and active travel,Clean Air and water,Natural environment,
Sustainable growth,Social Equity and health,Sustainable Energy and Adapting to Climate Change.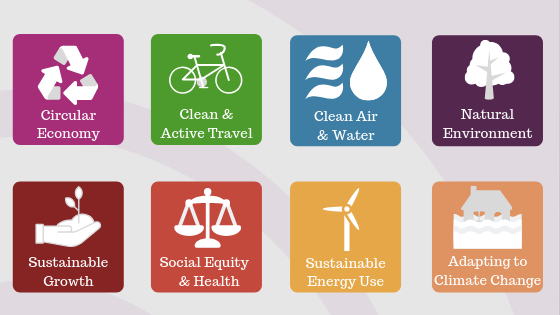 United Nations Sustainabilty Development Goals can be listed as Environmental Justice and Social Justice.
Environmental --- Food security, Water and sanitation, Renewable energy,
Cities and Rural living, Oceans, Biodiversity and Climate Change
Social --- Ending Poverty, Hunger and social injustice,
Developing Health and well being, Equality and Education,, Resilient communities,
Sustainable growth and consumption, Peaceful societies and Global partnerships.
Further information
Book - What's really happening to our Planet? Tony Juniper
Groups - Friends of the Earth, Greenpeace, WWF, Extinction rebellion
GSX groups - Shrewsbury FOE and Green guide
Transition Telford, Sustainable Newport, Wellington 21
Sustainable Bridgnorth, Ludlow 21
Stretton Climate care, Bishops Castle and Clun Climate action.
See Useful links page